As we announced few weeks ago, vFeed IO and DNIF have sealed an Integration Technology Partnership to extend the capability of DNIF SIEM solution by enriching the data with correlated vulnerability information.
DNIF is a first of its kind Next-Gen SIEM that brings in multiple data-driven functionalities like SOAR, UEBA, Security Analytics, Threat Hunting and ML/AI together onto a single platform and empowers organizations with meaningful insights, process efficiency, better manageability and reduced risks.
To support this integration, DNIF have developed a set of 16 lookup functions that should be deployed in order to take advantage of the richness of both DNIF big data SIEM platform and vFeed vulnerability correlated database.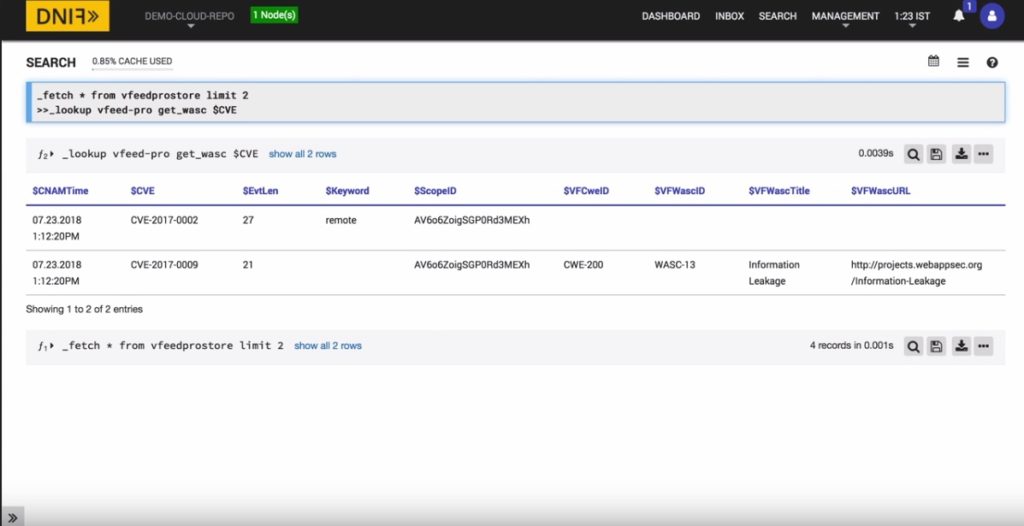 The "lookup-vfeed-pro" is available as open-source plugin and can be downloaded from the DNIF official repository
The Lookup integration is detailed in the documentation or in this blog (vFeed Professional and DNIF Integration).
DNIF offers a Free monthly 100 GB volume Plan to try their SIEM capabilities and in order to activate the vFeed Pro integration, you can reach us to get your Demo API keys.